For your personal safety and that of your passenger, it's imperative that you know and understand all of the information available on this site and Ontario's Motorized Snow Vehicles Act prior to operating a snowmobile or accessing an OFSC Prescribed Trail. When accessing an OFSC Prescribed Trail, you accept an assumption of risk and the conditions of release and waiver of liability.
WHERE CAN I RIDE?
WHAT AM I RESPONSIBLE FOR?
HOW CAN I ENJOY THE SAFEST RIDE POSSIBLE?
ADDITIONAL RESOURCES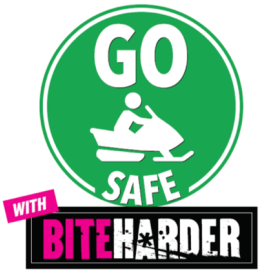 Everything you need to know to Go Safe Snowmobiling Ontario!
With so many new participants and returning riders hitting the trails in recent years, the OFSC Go Safe campaign is here to educate snowmobilers with important information and resources for all snowmobilers, regardless of their skill level or experience.
Even the most experienced snowmobilers can find useful information and get answers about the responsibilities we all share as OFSC trail riders.