For your personal safety and that of your passenger, it's imperative that you know and understand all of the information available on this site and Ontario's Motorized Snow Vehicles Act prior to operating a snowmobile or accessing a recreational OFSC Prescribed Trail. When accessing a recreational OFSC Prescribed Trail, you accept an assumption of risk and the conditions of release and waiver of liability.
The Safe Riders! Snowmobile Safety Awareness Program provides basic essentials about snowmobile safety and includes short quizzes to help you test your knowledge about safe snowmobiling practices.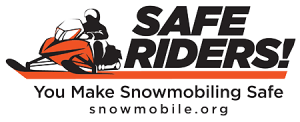 This Program has been produced through a partnership between the American Council of Snowmobile Associations (ACSA), the International Association of Snowmobile Administrators (IASA), and the International Snowmobile Manufacturers Association (ISMA) with financial assistance from the Recreational Trails Program administered by the US Department of Transportation – Federal Highway Administration (FHWA).
Safe Riders! Course
Starting Your Machine
Riding Positions
Hand Signals
Trail Signs
Riding in a Group
Riding with Passengers
Never Ride Alone
Getting Unstuck
Night Riding
Towing
Varying Snow Conditions
Rider Responsibilities
Etiquette for Encountering Trail Grooming Equipment
Impaired Operation
Speed and Careless Operation
Roadways and Railroads
Ice
You've read all the chapters, studied the laws and rules of safe snowmobiling. Learned all parts of your snowmobile and the best practices to ensure a safe ride. Think you are ready to test your snowmobiling safety knowledge? Put your knowledge to the test in the Safe Riders Snowmobile Safety Awareness test!