ABC's of Safe Snowmobiling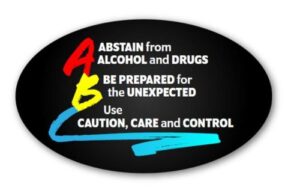 With support from the Ministry of Transportation of Ontario (MTO), the OFSC is proud to partner with the Ontario Provincial Police, their SAVE Team and local detachments to continue the Responsible Riding initiative. It will run throughout this snowmobiling season, including enforcement on OFSC Prescribed Snowmobile Trails. We're calling the campaign the "ABC's of Safe Snowmobiling" to drive home the three key messages highlighted during International Snowmobile Safety Week:
A – Abstain from Alcohol & Drugs: "Zero Tolerance", "Ride Safe Ride Sober", "Impaired is Impaired" – Whatever you want to call it, the use of alcohol and drugs while riding is a legal no-no. It carries the same fines, penalties and probable insurance premium increases as getting caught impaired driving your automobile. Riding impaired is also a huge risk to your own long life expectancy. So please think of the loved ones you'd leave behind if the worst happened – and wait until you've finished sledding for the day to let loose!
B – Be Prepared For The Unexpected: Snowmobiling takes place in an unpredictable and constantly changing natural setting often far away from help. No one can possibly anticipate everything that's going to happen on every ride. So no matter if you're riding to some distant place or just next door, always be ride-ready. Take the gear and the precautions that can save your life or that of a friend if anything goes terribly wrong. Check out Polaris Ambassador Paul Mailloux's video for "Be Prepared" tips featuring three products from OFSC Safety Partners – Bite Harder Helmet Safety Lights, TekVest, and Royal Distributing. You can also enjoy savings from these partners when you order through OFSC Rider Advantage.
C – Caution, Care & Control: Make the common sense 3 C's a routine part of your everyday trail riding behaviour. Your ride can go very wrong in the blink of an eye, but you can dramatically improve your odds of avoiding injury or death by making it a habit to stay on available trails, ride within your capabilities and according to conditions, keep to the right side of the trail, avoid letting peer pressure get you in over your head, moderate your pace when visibility's poor, or be sure you have enough reaction time to save yourself if all else fails.
There's no excuse for reckless riding on any OFSC trail, when being responsible is as easy as A, B, C!
Tips For Riding With Caution, Care & Control on OFSC Trails
In addition to snowmobile trail safety fundamentals like avoiding alcohol/drug impairment and excessive speeding, and to always "know before you go" on any ice, the OFSC reminds snowmobilers of best practices for recreational riding with caution, care and control on OFSC Prescribed Snowmobile Trails, including:
Always stay on the trail
Only ride trails showing as Available (Green) or Limited Availability (Yellow) on the ITG
Ride within your abilities and comfort level
Know your sled and its capabilities, keep it well-maintained
Always ride with a companion(s)
Ride in single file on the trails
Ride your side of the trail
Leave plenty of space between you and the sled ahead
Take responsibility for the rider behind you
Be especially vigilant coming into corners or cresting hills
Pass groomers and other riders cautiously
Always stop at crossing roads and take extra caution riding trails on active logging roads
Slow down at night or when visibility is poor, when non-motorized users are on the trail, or when passing through towns or residential areas
Stay alert to the trail ahead and aware of your surroundings
Stop on the trail at locations with clear sight-lines in both directions
Check area the ITG and weather conditions before your ride
Before leaving home, notify someone where you will be riding and when you expect to return
Always carry an emergency kit, snacks, extra fuel, a tow rope and a communication device.
Looking for more trail safety ideas to protect you and your loved ones? Check out great products from our OFSC Safety Partners!