For your personal safety and that of your passenger, it's imperative that you know and understand all of the information available on this site and Ontario's Motorized Snow Vehicles Act prior to operating a snowmobile or accessing an OFSC Prescribed Trail. When accessing an OFSC Prescribed Trail, you accept an assumption of risk and the conditions of release and waiver of liability.
WHERE CAN I RIDE?
WHAT AM I RESPONSIBLE FOR?
HOW CAN I ENJOY THE SAFEST RIDE POSSIBLE?
ADDITIONAL RESOURCES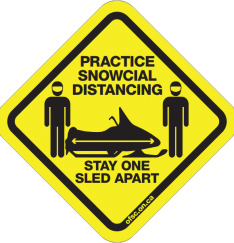 The Ontario Federation of Snowmobile Clubs (OFSC) is committed to delivering the best possible trail riding experiences for snowmobilers this winter. In accordance with the latest information from Public Health Ontario, the OFSC's pandemic response plan is enabling our districts, clubs & volunteers to do everything possible to make the provincial trail system available to ride, while respecting and protecting the snowbelt communities, hospitality providers and residents that serve OFSC trails.
Doing Our Part To Keep Trails & Services Open – To make this work, we snowmobilers must also do part to prevent transmission of the virus on every ride. While we all know that the riding itself is relatively safe, the risk increases considerably whenever we stop along the way. So, everyone needs to practice socially responsible behaviours when interacting with each other or visiting trail accessible services and communities. Not doing so could result in closed services, limited access to communities and possibly even trail restrictions during the season.