This year's Golf Tournament was held at Deerhurst Resort's beautiful Highlands Golf Course in support of OFSC volunteer and landowners. Despite the downpour, which was good for the greens but not so much for the golfers, everyone a great job keeping their spirits high. Maybe it was the prizes our CEO handed out during an early lunch!
Congratulations to all the winners:
Winning team – Daniel Gisborne, Blair Bridge, Cole Bridge & Chris Pease
Most honest team- Kenny Johnson, Darren Clark & Amanda Bright
Longest drive – Jordan Hill
Closest to the pin – Daniel Boersma & Christine Lapointe
While everyone tried to get hole-in-ones for the amazing prizes, none were won.
Thank you to everyone who participated and supported OFSC volunteers and landowners!
We hope to see everyone on the course again next year. Spread the word!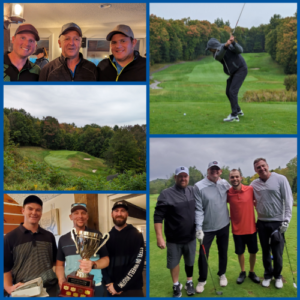 A big thank you to the 2023 Snowmobiling Ontario Open Golf Tournament supporters!
Skill Prize Supporters