By the end of the 2023 season, we'd ridden every loop of Algoma's OFSC trail system. My favorites were The Northern Experience, The Deer Trail and The North Shore Scenic. Geologic formations amidst rugged terrain surfaces, simulated well, that of old mushrooms (chaga), yet on a whole different scale; exciting, to say the least—but definitely not for the faint-hearted.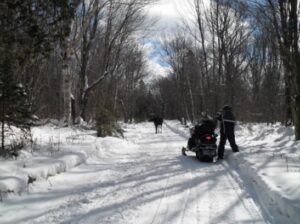 Rhéal André standing in the foreground, searching for his elusive camera; an OFSC trail groomer in the background, just beyond the adult moose walking between them.
Through time and space, five riders—two sons, two nephews and a father (uncle), took in Algoma's best: its well-maintained OFSC trails, its lush boreal forests, wildlife galore, an abandoned family homestead coined Old Green', source waters flowing across the region's natural hydrography to Spanish, Ontario, supplying industrial power via huge leaky old hand-hewn oak pipes eerily meandering through the forest—the latter, ten feet in diameter! Not only were they covered in thick glacial-like fashion, but so was the surrounding landscape. Most sledders were amazed by the snaky abstract creations—with few, truly understanding the great built-up of ice.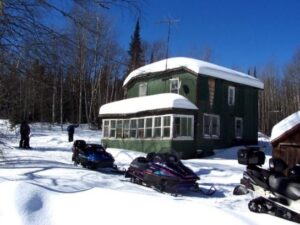 The ghost of 'Old Green', as it once was in Lochalsh, Ontario. This aged abandoned homestead has since been levelled due to safety concerns.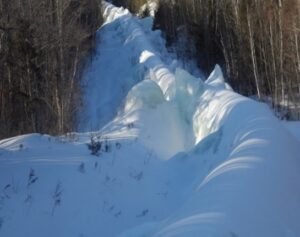 Big roundish water conduits transporting source waters from the crest of Spanish's watershed division to the community itself where local industry thrived due to the energy delivered to them.
The grand finale for 2023 had Rhéal with us; but only in spirit—his December passing, still fresh in all of our minds. His sons kept his dream alive; the family, rallying for him—mostly for him. My brother loved sledding; and he appreciated the support various Ontario clubs got from landowners and club volunteers, as well.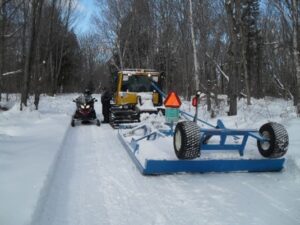 Rhéal-André, talking it up with an OFSC groomer-operator in Algoma District.
The man's life most certainly got celebrated; with him, we appreciated all the beauty Northern Ontario offered us, including the flatness we rode on due to twenty-four-seven grooming—and the connections we had with one another, simply wonderful.  Beyond the above, our quintet touched the best man through poetry read aloud in the cool crisp outdoors of this northland; we also angled lakers amidst those latitudes. On past provincial outings, we proudly left behind shiploads of tracks; but no ride could ever overshadow the fabulous memories of sledding Algoma splendor. This year's trip is indisputably my favourite sled ride of the season of '23—perhaps of all time, to boot!
Story and Photos Provided By: Norman G.