Bobcat Loop
LOCATED IN HORNEPAYNE AREA
OFSC DISTRICT 15
For touring in the Hornepayne area of the Northern Corridor Adventure, the 90-km Bobcat Loop provides a special opportunity to explore enticing local trails options instead of just passing through on the main TOP Trail.
Explorers Snow Tour
Located in Bonfield - Mattawa Area
OFSC DISTRICT 11
This 234-km loop, located east of North Bay in the Algonquin Highlands, visits 10 Attraction Points of Interest (APOI's) while travelling an adventurous mix of TOP Trails and club trails, including sections of the popular Voyageur Multi-Use Trail System.
FAR LOOP
Located in Haliburton
OFSC DISTRICT 6
The FAR Loop is a 75 kilometre Forest and Rail self directed journey that's family friendly. FAR is the perfect day outing with no worries about eateries and services enroute. Locomotive 2616, an abandoned rail corridor, a white water preserve, and so much more!
Gateway To The North Tour
Located in Cochrane - Smooth Rock Falls Area
OFSC DISTRICT 15
Positioned as the southern access to the Northern Corridor Adventure, the 215-km Gateway to the North Tour includes a scenic ride through Greenwater Provincial Park and some of the widest and most awesome trails in Ontario.
Gateway to Ontario Tour
Located Between Kenora and the Manitoba Boundary
OFSC DISTRICT 17
Connecting two provinces and requiring a permit from each, the 168-km Gateway to Ontario Loop (including 130km in Ontario) is a unique way to experience the best of both the Ontario and Manitoba trail systems, plus the amenities of the Town of Kenora.
Lake Muskoka Magic Tour
Located West of the Gravenhurst - Bracebridge Area of Muskoka
OFSC DISTRICT 7
This leisurely 125-km loop around Lake Muskoka makes an ideal family outing through Ontario's celebrated cottage country where highlights include lake views, Torrance Barrens, Dark Sky Observation Area, Port Carling floating bridge, and Huckleberry Lookout.
Lake of Bays Watch Loop
Located East of Huntsville Area of Muskoka
OFSC DISTRICT 7
Wilderness, wildlife, and wide trails highlight the 190-km Lake of Bays Watch Tour around this well-known lake in the eastern part of Muskoka, where sights include the Big East River Bridge, ice cliffs, Oxtongue Rapids and Dyer Memorial.
Lumberjack Loop
Located in Kapuskasing Area
OFSC DISTRICT 15
From Moonbeam to Opasatika, the 145-km Lumberjack Loop circles the Town of Kapuskasing, providing an outstanding route alternative to TOP Trail A for snowmobilers discovering the Northern Corridor Adventure.
Missinaibi Expedition Tour
LOCATED IN HEARST AREA
OFSC DISTRICT 15
Hearst is one traditional turn around point for a Northern Corridor Adventure, but the 165-km Missinaibi Expedition Tour adds a new dimension to the experience with a loop north of town through remote forests teeming with wildlife.
RIDEAU ST. LAWRENCE RUN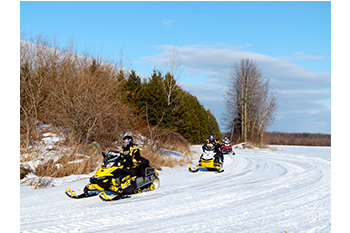 Located in Eastern Ontario (Between the Rideau River and St Lawrence River)
OFSC DISTRICT 1
This new 240-km loop is located on the eastern side of the Upper Canada Snowmobile Region just north of Brockville. It takes in the towns of Smiths Falls, Athens, Prescott and North Gower on a mix of trails through woodlots, open fields, pipeline corridors and abandoned rail lines.
SOO HIGHLANDS LOOP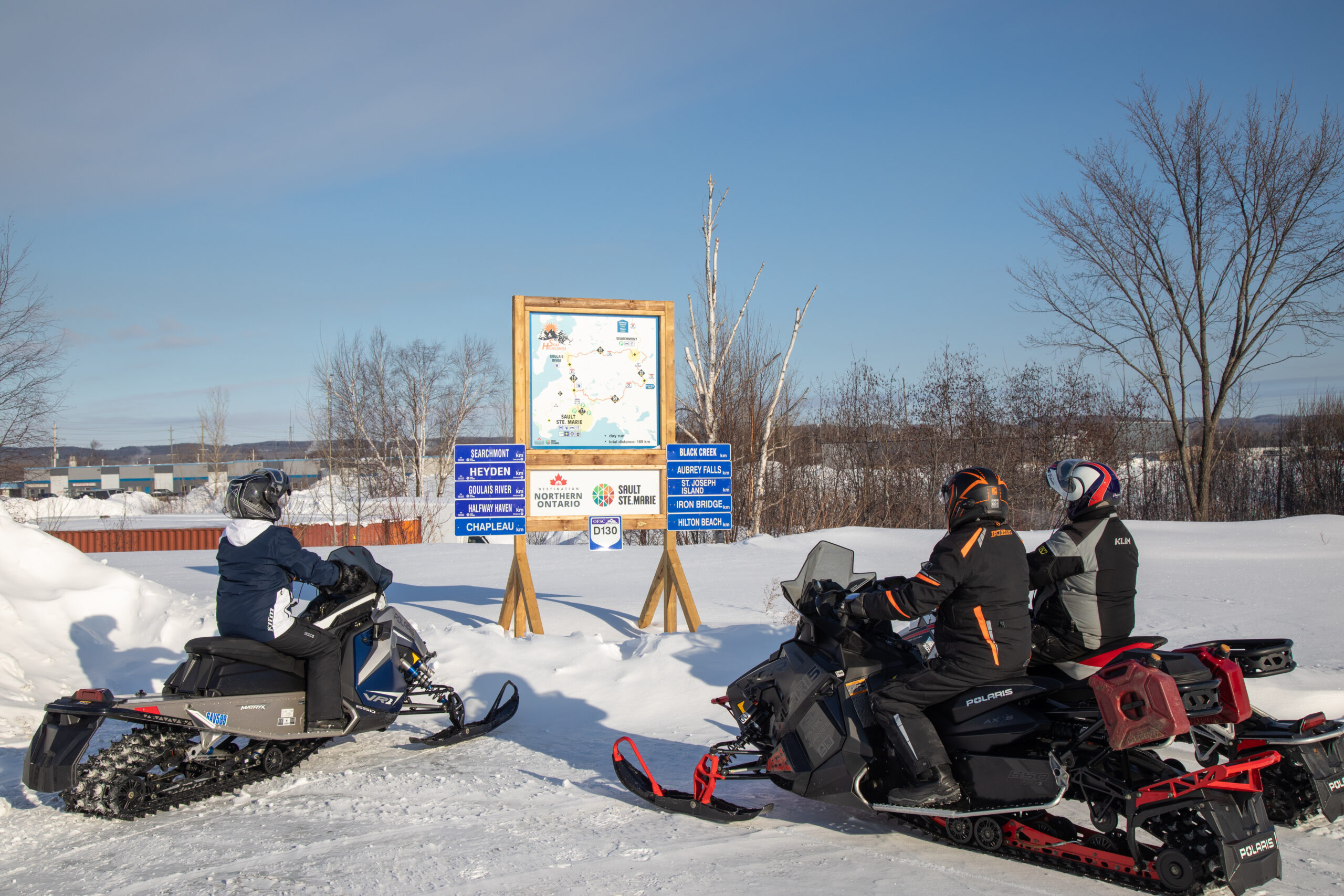 Located in Sault Ste Marie Area of Algoma Country
OFSC DISTRICT 13
Explore the natural beauty of The Soo Highlands Loop just North of Sault Ste. Marie. This 169 km loop provides the perfect experience of the rugged landscapes that the Algoma Highlands has to offer. This half-day ride will have you snowmobile through the breathtaking scenery in this winter wonderland.
Sun and Wind Tour
Located west of London
OFSC DISTRICT 5
Farms, fields, forests and lake effect snow…this 159-km loop on easy-riding trails provides several convenient staging areas to start your day trip through some of Southwestern Ontario's prettiest farmlands and vibrant villages.
TNT Tour
Located between London and Woodstock
OFSC DISTRICT 5
This laid-back 149-km day loop takes riders through the heart of Southwestern Ontario dairy country and south of Highway 401 into Amish settlements and Ontario's main tobacco belt, providing an interesting diversity of landscapes and sights.
White Otter Loop
Located in the Atikokan Area
OFSC DISTRICT 17
Anchored by the towns of Atikokan and Ignace, this 203-km snow tour follows TOP A and local trails to visit Northwestern Ontario's famous White Otter Castle, built by woodsman Jimmy McQuat in 1915 and not accessible by road.