Snowmobile Trails, A Unique Winter Asset Benefitting All Ontarians
(Barrie, ON – January 24, 2022): For more than 50 years, community-minded landowners have partnered with volunteers in local snowmobile clubs to provide their area with recreational snowmobile trails. This rural tradition has created many economic, recreational, social, and health benefits to enhance the winter well-being of hometowns and their residents across the province.
With over 50% of trails now available for recreational riding, the Ontario Federation of Snowmobile Clubs (OFSC) is celebrating these unique and enduring relationships, and the incredible trail network of 30,000 kilometres of OFSC Prescribed Trails we've built together, about 60% of which are located on private property. Today, the OFSC is issuing a special call to action: Let's work together to Save Our Trails.
The OFSC Save Our Trails campaign reminds everyone how valuable OFSC trails are to snowmobilers, to landowners, and to all Ontarians, while recognizing that Illegal off-trail riding is becoming a challenge that requires our united action. Trespassing on private land is not only harmful to longstanding landowner relationships. It also causes serious land access issues for member snowmobile clubs in many areas, while threatening the winter livelihoods of many rural and northern communities. Save Our Trails asks Ontario snowmobilers to take personal and collective action against trespass by:
Always staying on the designated OFSC trail and never riding a closed trail.
Respecting landowner rights and property.
Refusing to ride with friends who trespass.
Reminding new participants why it's important to stay on the trail.
Spreading the message across personal social media outlets.
Supporting OFSC advocacy for stronger anti-trespass enforcement and legislation.
"Trespassing on private property and entering prohibited areas must become as unacceptable socially as it is legally." stated Ryan Eickmeier, OFSC CEO. "Land use permission is a privilege, not a right, and it must be respected by every snowmobiler."
The OFSC Save Our Trails campaign delivers a hard-hitting Stay On The Trail video, going public for the first time today. Since October 1, the video has been prerequisite viewing on the OFSC permit site for every snowmobiler before completing an online transaction to purchase an Ontario Snowmobile Trail Permit.
Save Our Trails also includes many other targeted initiatives:
"Code of Conduct For Trail Riders" – OFSC industry-first outlines the acceptable behaviour expected from every snowmobiler entering an OFSC Prescribed Trail on private property.
Provincial Radio PSAs– to reach as many snowmobilers and landowners as possible. Examples include:
OFSC Landowner Appreciation Week (March 21 – 27) – Recognizes landowners contributions to organized snowmobiling.
Take The Pledge partnership with the International Snowmobile Manufacturers Association (ISMA). Renown brand ambassadors and influencers speak directly to their peers about only riding where it's legal in the Take The Pledge video.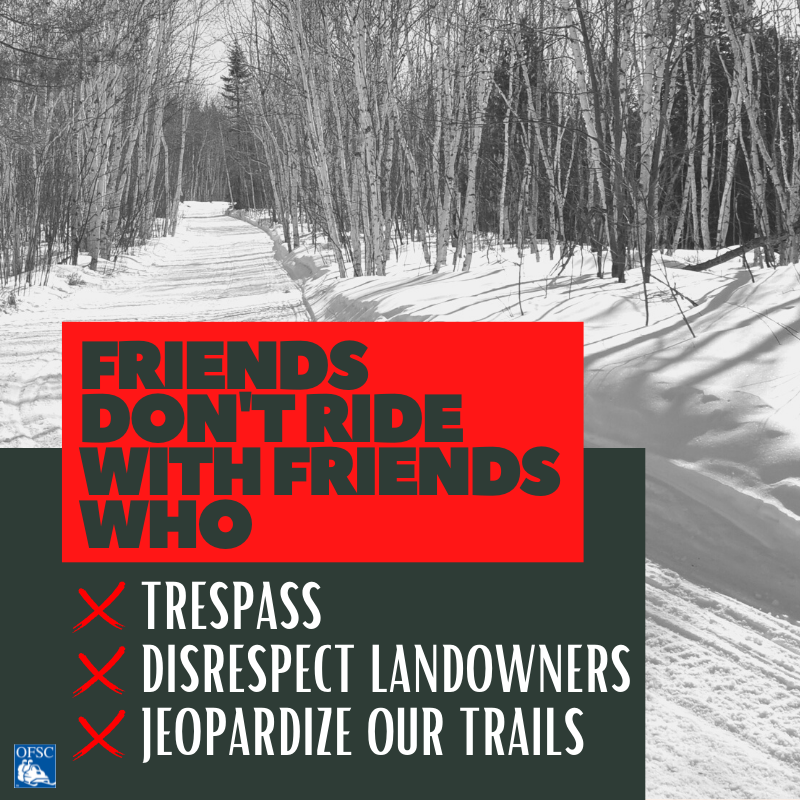 OFSC trails on private property provide snowmobile access to communities and services, as well as connections to neighbouring regions. These trails provide safer riding for everyone. OFSC Prescribed Trails are recognized in Ontario law as the only approved recreational trails for snowmobiles. The law allows snowmobiles displaying a valid Ontario Snowmobile Trail Permit to legally cross the property of participating landowners during the winter months on a designated OFSC trail. Statistically, OFSC Prescribed Trails remain the safest place to ride a snowmobile, another good reason the OFSC is urging united action to Save Our Trails.
---
The Ontario Federation of Snowmobile Clubs (OFSC) is a volunteer led, not for profit association that provides the voice for organized snowmobiling in Ontario. OFSC snowmobile trails managed by 200 community based, member clubs generate up to $3.3 billion in economic activity in the province each year.