I would like to shine a light on a personal milestone that my wife, Pauline, from Timmins, Ontario, has accomplished – surpassing the 100,000-kilometre mark!
Pauline has been trail riding snowmobiles since 1992. To date, she has clocked a total of 103,600 kilometres. During this time, we have taken many week-long vacations with our sleds. Some of the more memorable moments include enjoying Valentine's dinner at the Don Lou restaurant in Kirkland Lake and spending time in the out-of-the-way lodges along the trails.
Since the early 1990s, Pauline has owned seven snowmobiles: 1 Arctic Cat, 2 Polaris, 3 Ski-Doos, and she currently rides a 2021 Ski-Doo Enduro 900. Back in 1992, it took everything to convince her that we should purchase a second snowmobile so we could get out and do some trail riding. Reluctantly, she agreed. What I didn't know then is that I created a 'snow-mo monster' who took to trail riding with the highest enthusiasm.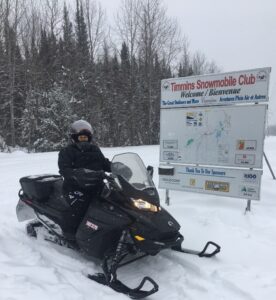 In the 90s, there were two independent snowmobile clubs in Timmins: the Porcupine Snowmobile Club and the Mountjoy Trail Makers. These clubs later merged and became affiliated with the OFSC as the Timmins Snowmobile Club. Throughout our years on the trails, we have met many people who enjoy riding as much as we do. We have also driven through the Quebec trails system (in Northern Quebec), but I must add that that the trails system in Ontario is second to none.
As the two of us near our senior years, we can both agree that we are not ready to fly south and spend our days waiting for happy hour around the pool. We would rather be out sledding to Hearst, Kapuskasing, Cochrane, or any other destination for a quick lunch or overnight stay. Pauline is still well on her way to achieving many more kilometres on the trails. There is no other rider that I would rather hit the trail with than my girl and lifelong partner.
To any ladies out there who might be hesitant about operating their own sled on the trail, Pauline and I say: go for it and enjoy!
Story and Photo Provided by: Bob P.