Snowmobiling has typically been a recreational activity that only 'the guys' do. Each weekend, gathering like a pack of wolves to explore miles of untouched wilderness and finish the day's ride with a meal fit for a king. It's the only way I know to spend winter. For 20 years, I've been sledding across Ontario and enjoying everything our great outdoors have to offer during the sub-zero months. But what about my queen? 
In all these years, she's never put on a helmet, swung her leg over a seat and smashed the throttle to experience the greatest sensation any sled-head thinks about every minute of every day. This year was going to be her year.  
Like all sledding trips, we discussed the plan and soon enough the opportunity presented itself with an ideal scenario for any newbie sledder looking to experience their first ride. A friend of ours invited us to spend a day at his cottage, boasting a massive 300-acre property bordering Lake Scugog. This would serve as our training ground for the weekend.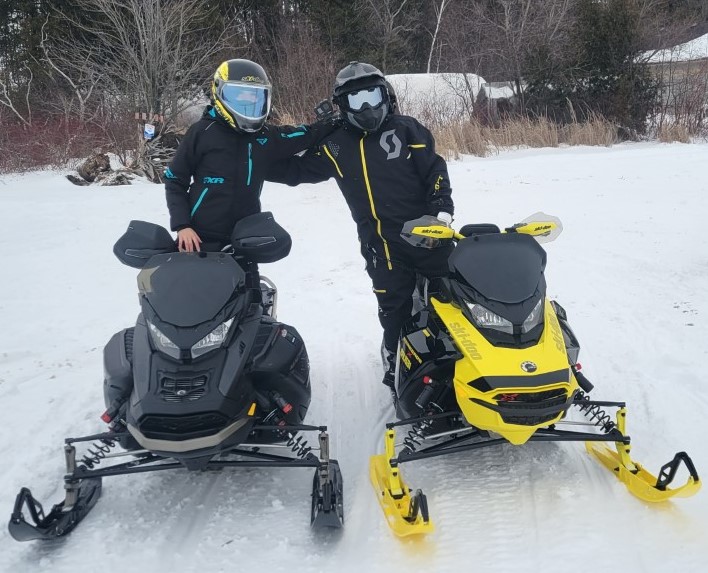 After outfitting her with the finest purple FXR gear we could find, Baffin boots and a shiny new lid, we proceeded outside to review the controls and operation of our sleek new 22' Mach Z (not launch control!). I know what you're thinking. How could a newbie begin their sledding experience on one of the biggest, baddest and fastest sleds on the market? The beauty with Skidoo's 900 4 strokes, is you can switch them into ECO mode which significantly limits the engines engine power, allowing for a safe beginner riding experience.  
We carved out a track around the property and she followed behind to get used to it. After about 20 laps, she was getting more comfortable and having a blast. We all know that feeling and never forget our first laps on a sled. After another 30 minutes, she felt ready to hit the trails and off we went on our first ride together. We were out for about 2 hours and shared lots of laughter and joy through our helmet communicators.  
Riding with the boys is always a blast but riding with my queen added an entirely new dimension to our relationship. This one goes out to all the couples looking to add something new and exciting to their relationship by sharing winter's best. You won't be disappointed if you seize the opportunity to ride together and you never know, your Queen may soon be leaving you in the snow dust! 
Story and Photo Provided by: Mike I., Sledaddicz