My wife and I have been riding the trails for over 20 years. Snowmobiling is the best way to spend our winters – hands down. It lets us get outside and enjoy some fresh air and explore new trails. This year was very different, in the sense that we had to ride from home. In doing so, we were very surprised as this was the most we have ever ridden in a season – a whopping 5000+ kms! It was great to see that the local clubs were able to maintain the trails, despite all the craziness going on in the world around us.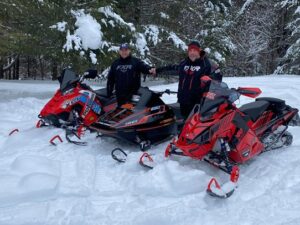 Our most memorable ride from this past season would have to be the ride where we spent the day with the volunteers from Team Snowcrest. Keeping in mind social distancing, we packed snacks and lunches, stopped at local restaurants for take-out and ate in the parking lot, and kept 6 feet apart also known as  "Snowcially" distanced. It was nice to spend a day with club members who work so hard on these trails and to show our appreciation as we all had an awesome time. Unrelated experience – we saw a lynx and a lot of lynx tracks around New Years in Northern Ontario! That was really cool.
I'm looking forward to hitting the trails again on my new sled. Hopefully we can ride with more friends and family and continue to experience new areas this winter.  
Story and Photo Provided by: Nunzio I.