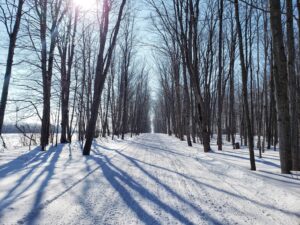 My home club is the Durham Trailblazers. I've been riding for over 20 years with my husband and when we heard that there were restrictions in place where we would have to stick within our own Public Health Unit, we were a little concerned.
Our area isn't normally blessed with a good covering of snow from Mother Nature, but boy, did we receive a treat! We typically trailer 8 hours north to chase the best snow but not last season…we had GREAT snow conditions in our area for a change! It was so great to get out and explore Ontario Snowmobiling in our own backyard. Snowmobiling make us feel so happy and free.
There's nothing like a quiet, fresh blanketed trail. We saw so many different critters – deer, snowy owls, chipmunks, and bush chickens (grouse). Riding makes me feel free and happy.  It's exhilarating and I can't wait for this year! 
Story and Photo Provided by: Kelly P.