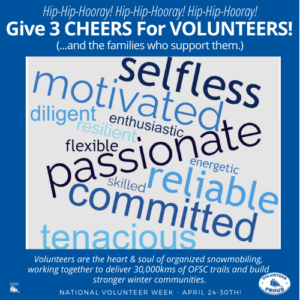 It started before clubs, before districts and before the OFSC. It started before trails, before permits, before signage, and before grooming. It started when the only places to ride your sled were in someone's back forty. Or along old roads. Across frozen lake. Or on squirrely trapper's paths. It started because too many of these locations were illegal or dangerous to ride.
It started when early snowmobile enthusiasts banded together in informal groups to help build recreational trails from scratch around their home communities. Yes, volunteering started before everything else, so that snowmobilers would have legal, safe and reliable places to ride their sleds.
Mostly, the pockets of new trails built by these early volunteers weren't connected to each other. The local trails around each community operated separately and independently. But they did require lots of attention. Getting permission from friends and neighbours to use part of their land for a trail. Continual brushing, repairing and clearing to hold Mother Nature at bay. Marking the trails so riders wouldn't get lost or ride where they shouldn't. Figuring out how to avoid or cross streams, creeks and other natural obstacles.
To maintain trail surfaces, volunteers began dragging old bedsprings or other home made rigs behind their sleds to smooth the snow. Soon, the informal groups organized into community-based snowmobile clubs that earned proud names and reputations for great local trails.
This was the start of our volunteer tradition. It's the backbone of organized snowmobiling in Ontario – snowmobilers helping snowmobilers build, maintain and sustain the recreational trails we have enjoyed for more than 60 years.
What started as casual seasonal projects shared by local snowmobilers became a massive, annual, provincial undertaking, needing much more time, attention, effort and skill than ever before. Today, volunteers are as essential, valuable and important as their predecessors, and irreplaceable to operate, sustain and protect our 30,000-kilometre recreational trail system.
So during National Volunteer Week 2022, let's recognize all the volunteers who carry on our incredible tradition so selflessly every year. Let's also salute all the volunteers who helped build that legacy over many years. Together, they made all that we love and enjoy about winter possible: 3 cheers to volunteers – hip-hip hooray, hip-hip hooray, hip-hip hooray!