After a little over 25 years of giving up the sport, last year we finally decided to get back into snowmobiling. With the little snow and short season we had in 2021 as well as suffering the loss of our son in a tragic accident, I can say that getting out on the trails, getting fresh air and clearing our minds has been a blessing. As a couple we love and appreciate our time out together snowmobiling and discovering the Northern Ontario trails. 
We've now purchased a second sled!  We enjoyed taking off with friends to explore our backyard trails in the Greater Sudbury Area. However, we did find ourselves travelling 3-5 hours north from us more than once this winter.
Timmins, Smooth Rock Falls and Cochrane have some of the most amazing, well-maintained trails our Northern Ontario trail system has to offer. From the wide trails to the accessible warming shacks, it makes for an awesome weekend away.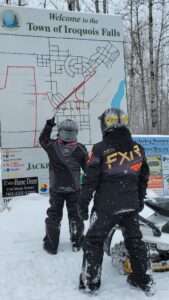 We don't realize the beauty we have surrounding us until you have the privilege to be out on the trail and ride up to some pretty cool steel tunnels, and even some old cement under paths with respectful graffiti. There's beauty to be seen when riding!
If you're ever up in Smooth Rock Falls, I strongly recommend you ride up to the Calhoun fire tower and catch the beautiful sunset with the most amazing view. Definitely things to be grateful for as a rider. 
I can say we are fortunate with breathtaking trails in Northern Ontario. We plan to ride in different districts in the years to come and explore as many trails as we can.. Can't wait until next season! 
Story and Photo Provided by: Christine B.