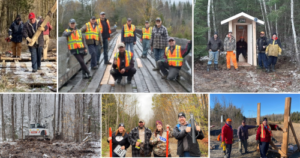 Recreational snowmobile trail riding exists in Ontario because local volunteers organized snowmobile clubs. Then on February 4, 1967, 16 clubs organized into a non-profit provincial association they named the Ontario Federation of Snowmobile Clubs. Later, the clubs also organized themselves into area associations now called "districts" for more effective regional trail operations.
Today, when we talk about "the OFSC", we refer to all of these entities together; they comprise organized snowmobiling in Ontario – locally, regionally and provincially. Volunteers elected by their peers also continue to be take leadership roles throughout the entire OFSC – as club executives, as district executive and board members, and as provincial governors and executive committee members on the OFSC provincial board.
Volunteers from every member snowmobile club attend our OFSC annual general meeting to approve priorities and direction for organized snowmobiling in Ontario for the coming season and through their strategic plan, for multiple years ahead. They also authorize their volunteer representatives, the OFSC Board of Governors, to oversee and monitor the implementation of these priorities, directives and plans throughout the year through board committees, working groups and staff accountable to the board through the Executive Committee of the Board.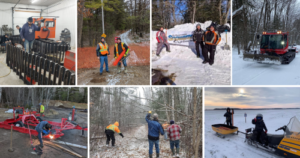 As you can see, volunteers are active and important in every aspect of the OFSC organization – and that's why we can never thank them enough.
Snowmobile trails remain the 'product' that clubs build and maintain. All of the economic, social, health and recreational benefits associated with snowmobiling flow from organized snowmobile trails operated by organized club volunteers. And so does our winter enjoyment, camaraderie and fun!
Our OFSC volunteers are simply amazing. National Volunteer Week is April 24 – 30. Please take the time to say one big "THANK YOU" for all they've given us!