For the first weekend of March, we met friends at the Sand Dam Rd. parking and staging site about 25 kilometres north of North Bay on Highway 11, at the intersection of TOP A/D and TOP A102Q. As we packed our gear onto the sleds for our overnight getaway, the clouds started to part and the sun was shining. It was going to be a beautiful day!
Although they didn't get the recent snowstorm, the trails were in great condition. As we rode north, TOP A trail had a wonderful mix of straight trails, some sweeping curves and a few twisty sections which gave us a nice balance. There was a long stretch of several large hills that provided great views of the trails ahead.
After a wonderful lunch at Temagami Shores Inn & Resort, we turned east onto  Club Trail L184 then an hour or so later to Haileybury, my birth town. Along the west shore of Lake Timiskaming, we checked out Devil's Rock and the mysterious Grant Mansion before ending our day's at the Waterfront Inn at New Liskeard. The view from our room was spectacular – our sleds outside our room with Timiskaming Lake and a village of ice fishing huts in the background!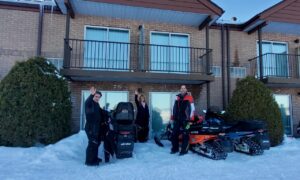 After breakfast the next morning, we found the sun peeking out from the clouds and promise of another gorgeous say! We decided to add a loop to our trip back, so we took the L185 to L186 then joined up with the A trail again. Wow, what a fantastic loop!  We wanted to do that a second time but decided to start making our way back.
Going back on TOP A southbound was just as enjoyable as our ride north. We were all sad to see such a great ride come to an end, but agreed that it was well worth trailering from the GTA to find snow for our weekend adventure. Nothing but blue skies, amazing trails and laughs with great friends!
Story and Photo Provided By: Carolyn S.