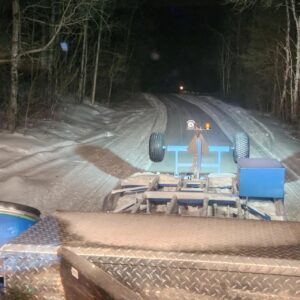 The OFSC provincial fleet consists of two major kinds of large industrial equipment: purpose built machines and tractor conversions. Some clubs also use smaller drags, towed by utility sleds for early season packing of wet areas and for maintaining tighter local trails and portages.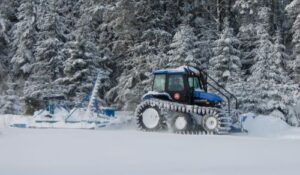 Tractor conversions are essentially farm tractors converted from wheels to a track system for winter usage. A cost-effective option with good snow compaction ability, tractor conversions produce a solid trail base in many "flatland" areas, but their winter use can be limited because of their heavy weight, more limited maneuverability, and overall larger size. Typically, a complete unit (tractor & drag – photo 1) costs about $330,000.
Closely related to ski-hill groomers, purpose built trail groomers are neither as big or as wide as their slope counterparts, and are built for travelling longer distances. They too are engineered to operate in snow, but also to maneuver more easily through rough, twisty – and yes, when necessary, on steep terrain. Generally, they weigh less than tractor conversions, resulting in somewhat lower surface pressure for snow compaction and less drag towing capacity. Typically, a complete unit (groomer & drag – photo 2) costs about $350,000.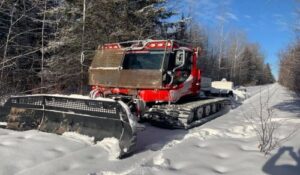 With our active fleet of 280 groomers, many considerations come into play in deciding what kind of industrial equipment will work best in each circumstance. Some of these factors include:
– How much traffic a trail typically gets throughout the entire season.
– How challenging terrain is, how difficult to groom, and overall trail width.
– What shape the trail infrastructure is in, including weight bearing capacity and width of bridges.
– How many heavy & deep snow accumulations the area typically experiences in a season.
– How long grooming runs are and what fuel capacity a groomer requires between available fill ups.
– Operator availability, experience, safety and preference.
Our focus is to deliver the best possible trail riding experiences within available grooming resources. Working with our districts and clubs, the OFSC strives continually to optimize the mix, number, efficiency and effectiveness of our provincial grooming fleet.