In Timmins, we are very fortunate to have our club, and surrounding clubs in the area offering great groomed trails. This really helped to make the COVID winter feel shorter than it was.  I own several Skidoos and working on them is my passion.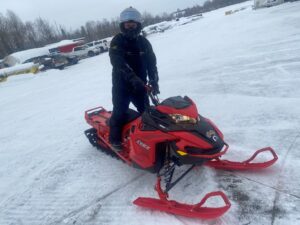 I enjoy each season even if the weather cuts it a bit short because I am either working on my sleds, or I'm out enjoying the smooth trails.
The feeling of being in control of a 500 lb high performance snowmobile is intense.
The best part of riding is ending a perfect day with a nice cold beverage.
The thing that surprised me the most was seeing all the newbies getting into this sport, which in my opinion is great.
After a tough year, I'm most looking forward to getting back to normal.  
Story and Photo Provided by: Dean R.