I've been an OFSC trail rider for over 20 years, and I have to say, that last season was an outstanding season of snowmobiling in Ontario. I managed to put close to 2000km on my sled, which would have been much more if there weren't government travel restrictions in place.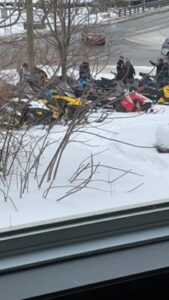 A typical ride consists of a few friends and me making day trips and grabbing lunch at a local restaurant, but since this was not an option, we would pack a few thermoses full of warm soup – prepping lunch at the beginning of the day became a ritual. 
Stopping trailside to have lunch, taking in the snow-covered scenery, and the smell of 2 stroke fumes, that we have all come to love, was a highlight for me – pure joy. As restrictions eased towards the end of the season, we were lucky enough to make a reservation at The Granite in Bancroft, which was at full (limited) capacity in no time. We were the first pair of snowmobilers through the door in 2021 and the staff were ecstatic to see us!
I'm lucky enough to live in a Public Health Unit that captures a lot of trails, and as a result, we explored trails that we would normally not ride. Safe to say, we will definitely be riding them again this season and look forward to traveling to discover all that Snowmobile Paradise Ontario offers.
Story and Photo Provided by: Ed T.