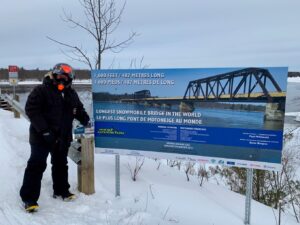 This March, my wife and I were planning a nice ride in our region (OFSC District 1). We saw on the OFSC Facebook page that there was a new bridge between Ontario and Quebec, and we decided that this was a sign! We decided to start from Carleton Place to try it out while scouting out some other areas for future trips. We ride a 2022 Expedition LE that is a perfect 2-up winter adventure sled with a passenger and full gear/lunch accessories.
Our plan was to ride for about 150km, so we packed up our lunch boxes and thermos' of hot chocolate and left early morning. Conditions were perfect! Trails were Green on the ITG, and the sky was blue – just how we like it. The trip started going up TOP Trail A311E past Pakenham towards Arnprior, then went east towards Club Trail W11 trail that led us to the snowmobile bridge near Constance Bay.
On the W11 we saw trail patrol…a porcupine was slowly crossing the trail and was not too bothered by our presence. We were able to get a good picture of him as he slowly made his way back into the woods.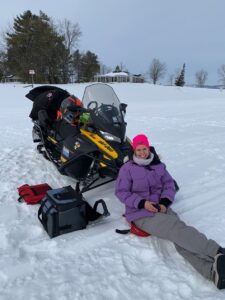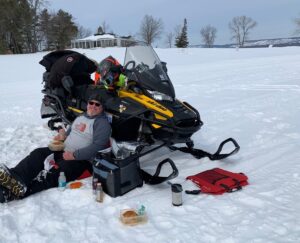 All in all, a great day on OFSC Trails!
Story and Photos Provided by: Jean-Christian D.