I recently completed a loop around Lady Evelyn Lake with my wife and a friend. It was my wife's very first saddle bag trip, so I wanted to make sure this was a trip she would enjoy and remember. I personally think this loop has some of the best trails in Ontario.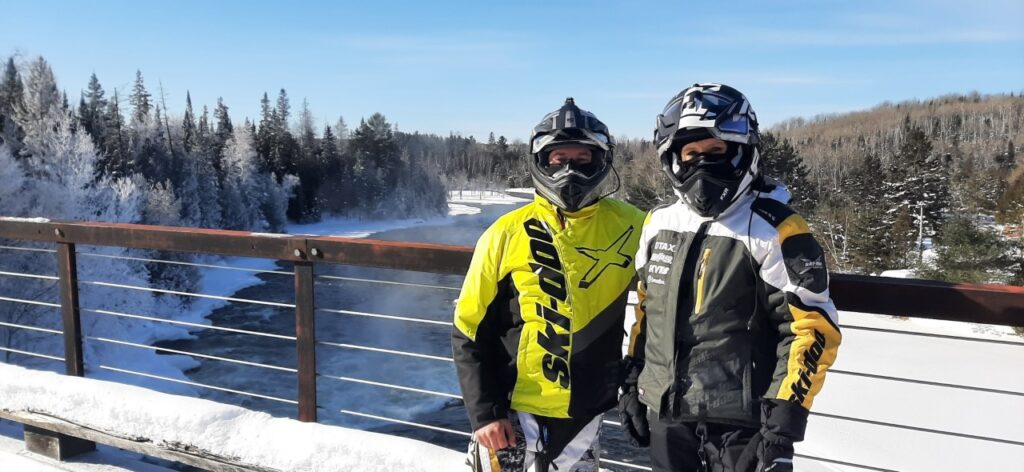 We set out on our 140km ride from The Rock Pine in Marten River to New Liskeard. There was a light snowfall, and the trees were covered with snow. It was a picture-perfect start. The Temagami area is a fantastic ride for those looking for tall trees and rollercoaster like trails. We stopped a few places along the way and finished mid afternoon at the Holiday Inn Express. Dinner that night was conveniently located across highway 11 at Ali's Grill & Bar. The food is unreal and has a great variety which made everyone happy.
Our 2nd day started out with a balmy -38˚C! On our way to Auld Lake we made a quick bush side stop at a new trailside outhouse that was new and very clean – needless to say, my wife was happy. After taking pictures on the train bridge over the Montreal River, we stopped in at the Elk Lake Wilderness lodge to re-fuel and warm up. The people who own the lodge were so welcoming and had great food to offer.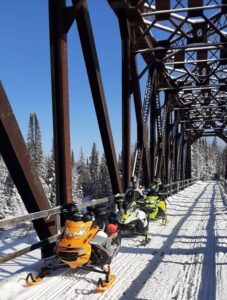 The owner also recommended a must-see detour at Canyon Lake, and it was well worth the stop! The view was both incredible and intimidating as there were such high rock faces on both sides. Once we made it to Auld Reekie lodge, we settled in by taking a much-needed hot shower and headed on down to the new dining room. It was so open, and inviting, and the staff were super welcoming and attentive. If you're in the area, I would highly recommend this lodge.
On day 3, the sun was shining, and the woodstove was burning bright. Our next ride was 175km down to Sportman's Lodge on Kukagami Lake. The trails were smooth and there wasn't a cloud in sight. Just before getting to our destination for the day, we stumbled upon a pack of wolves running down the trail. This was my wife's first-time seeing wildlife in Northern Ontario (apart from cute chipmunks lol). The lodge is always an awesome spot.
The old rustic wood buildings give such a unique feel. Jim and his crew go above and beyond for their visitors. It was Superbowl Sunday, so instead of a small dinner, Jim had a huge spread of food for all. It felt like we were hanging out with friends and family. I loved meeting new people and hearing about their rides. A typical hotel wouldn't provide an opportunity like this.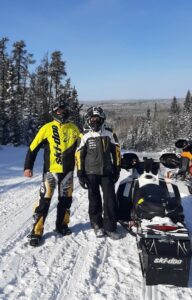 Our last day was a bit shorter – 100km back to the truck. Knowing it was the last day, we did our best to take in the beautiful scenery on the C206D trail. It was a sad sight to see Rock Pine and my truck.
All in all, it was an amazing ride and we really lucked out with the weather. I ride in the New Liskeard area at least once a year. This speaks volumes to the clubs and the hard work they are putting into this area. Not to mention, businesses are so welcoming of riders. We weren't even home yet, and my wife was already planning a multi day ride for next year! We're planning on tackling the Gold Rush tour.
Hats off to everyone at the OFSC for all the hard work that goes into making our riding experience as enjoyable and memorable as it is!
Story and Photo Provided by: Drew A.