GET THE RIGHT GEAR AT ROYAL DISTRIBUTING

Typically, when we consider factors involved in snowmobile safety, it's about trail riding with care and control, within your capabilities. But it's also a reality that your safety includes being properly geared up to avoid being distracted by being cold, feeling restricted or being uncomfortable. What you're wearing on a ride will not only protect you from moisture penetration, windchill, frostbite and hypothermia, but also help you survive if you're stranded.
Getting the right gear means wearing an integrated system of inner and outer wear where each compatible item adds to the warmth, dryness and overall riding comfort of the others. This approach starts with layering properly, then selecting the right snowmobile outwear, including your suit, boots and gloves. It also means selecting gear that's bright and reflective so you're highly visible to other riders and first responders.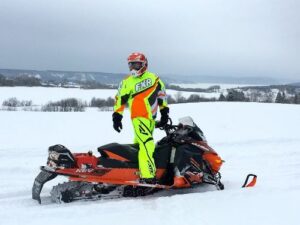 Wearing a purpose-built snowmobile helmet is a legal requirement for operating a snowmobile in Ontario. Your helmet safeguards your head against injury, helps conserve body warmth and protects your eyes and face. So choosing the right helmet is imperative, and so is getting one whose visor won't fog up so you can't see clearly.
Final tip: Even with the right gear, selecting the right windshield for your sled can make the difference between a comfortable ride all day and freezing your buns off.
Getting the right gear should involve a lot of comparison shopping and try-ons. One popular and time saving way to make your best gear choices for the coming winter is Royal Distributing. This Ontario-based company's wide selection of brands, colours and sizes make it your one-stop shop for all things snowmobiling. Check them out their virtual catalogue online, then visit one of their retail locations in Guelph, Innisfil, Kanata, Sudbury and Whitby.