TEKVEST

You never know what's going to happen next. That's why riding OFSC Prescribed Snowmobile Trails is so enjoyable, exciting and memorable. But occasionally, a nerve-wracking moment can happen. If it does, your TekVest can make the difference between good memories and bad ones.
Hand-crafted in Canada since 1996, TekVest is a lightweight body armour system that protects your vulnerable upper torso, including industry-best lower side coverage. It even provides multiple pockets for your digital devices.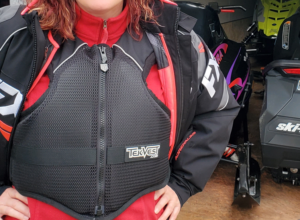 Available in a range of styles and colours, including custom options, TekVest is amazingly comfortable and totally unrestricting to wear under your snowmobile jacket. In fact, you won't even notice your TekVest – until it protects you from being seriously injured or saves your life. Check out TekVest review.
TekVest is like a helmet for your upper body, durable personal protective equipment (PPE) that's equally important for your safety and peace of mind for your loved ones. So never hit the trail without your TekVest. As their motto says: "If you have somewhere to be Monday morning, shouldn't you be wearing a TekVest?"
Get your TekVest before the snow flies and save 10% through the OFSC Rider Advantage program!