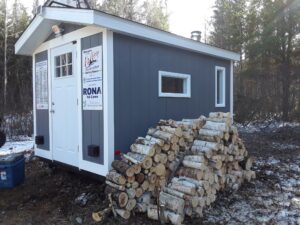 Thanks to students of Bishop Alexander Carter CSS in Hanmer, trail riders will be safer and more comfortable on District 12's Cartier Moose Loop in the Sudbury area. Here, their new shelter is in place to welcome riders this winter at the intersection of TOP C111D and Club Trail 56. To discover the backstory about how getting youth involved in and educated about snowmobiling led to this shelter project, read on and check out the video at the end.
Regular subscribers to our newsletter may remember our story last March about students from that school participating in Sled Days 2022 (click link to see video), an annual snowmobile training initiative put on by the Greater Sudbury Police Service.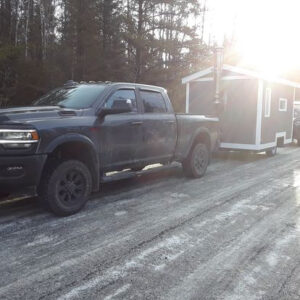 We're pleased to report that a lead organizer of that event, Paul Mailloux, a Co-Operative Education/OYAP teacher at the school, continues his quest to show the next generation of riders what goes on behind the scenes.
As an avid snowmobiler, Paul Mailloux is also a Polaris Ambassador and proud dad to a 12-year old son who recently graduated OFSC Online Driver Training and got his Motorized Snow Vehicle Operator's License.
Following Sled Days, Paul also led a group of students who volunteered at the end of last season to assist with collecting stakes and removing snow fencing for local club, the Valley Trail Masters. The young folks also helped install barriers to stop off-season access to private properties, learning why respecting landowners is so important to the future of our trails.
As a starter for 2023, Paul's posse of students from grades 7 to 12 has designed, built and donated a new warm up shelter to the club. Paul says the initiative is a win-win, with riders getting a place to warm up and students getting hands-on exposure to various opportunities in the trades.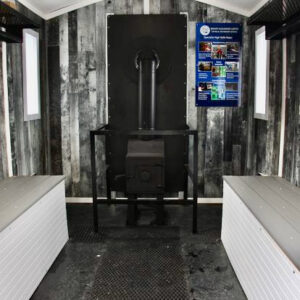 Wouldn't it be great if more clubs and teachers could connect in their own communities to get students involved in this way?
Watch the video here!