A CELEBRATION OF ORGANIZED SNOWMOBILING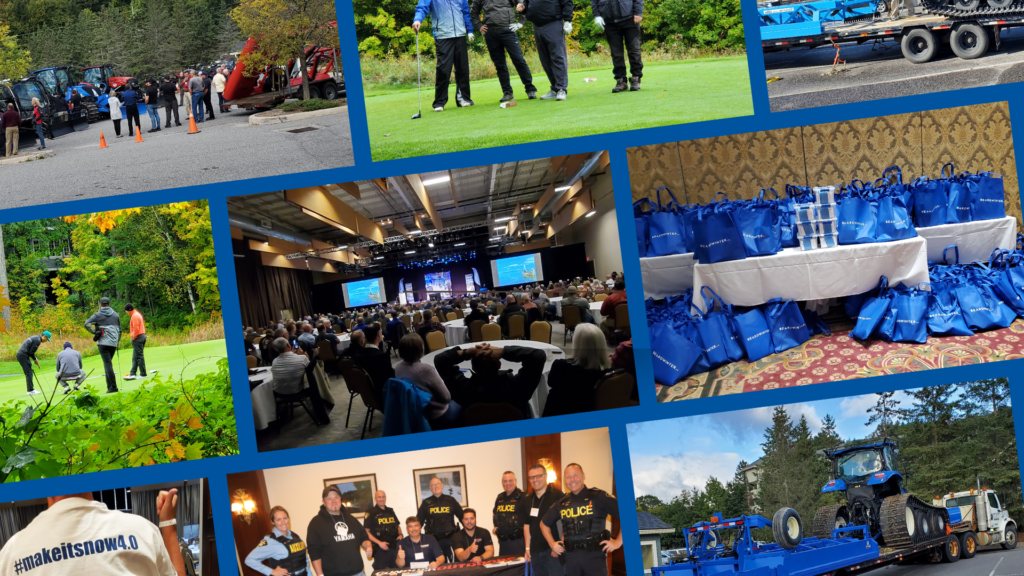 It was a productive, inspiring and upbeat celebration. Passionate snowmobilers from across the province travelled to Deerhurst Resort in Muskoka last weekend. Excited and re-energized by the first in-person OFSC Convention and AGM in three years, these dedicated club, district and OFSC volunteers discussed and helped set direction for organized snowmobiling in Ontario, not only for the coming season, but also for seasons to come. Delegates representing 97% of OFSC member clubs participated.
This celebration renewed the spirit, camaraderie and enthusiasm of our hard-working volunteers and staff. No virtual get together could deliver the feel-good level of sharing, debate, learning and togetherness inspired by the welcome reality of being face to face again.
Much of this convention centred around the OFSC Strategic Plan 2022-2025. The new plan is a culmination of the input and feedback received from thousands of volunteers across the province. It focuses on re-engaging and supporting member clubs and their grassroots volunteers to secure the foundation of organized snowmobiling, and to ensure the continuation of the OFSC trail network as Ontario's premier winter tourism activity. For permit holders, the new OFSC Strategic Plan represents a strongly renewed commitment to deliver the best possible trail riding experiences throughout every OFSC District in Ontario.
TRAINING AND WORKSHOPS
OFSC Districts play a key role in supporting their clubs and in the operational delivery of OFSC Prescribed Trails in their area. The OFSC hosted a pre-convention dinner and operational training session for district managers that built on and updated a series of training workshops provided for them by OFSC staff throughout the past year.
For our clubs and volunteers, the OFSC presented three timely educational workshops to support the goals of their new Strategic Plan:
Changing Landscape: Updates and plans for the Save Our Trails Campaign 2022-23, best practices for optimizing local landowner relations and a showcase of the tools to assist in the coordination of doing so.
Show Me The Money: How to find and successfully apply for various government grants and access community funding sources to support local projects.
Digital Tools for Fleet & Trail Management: The OFSC's new leading edge, industry first Geotab fleet tracking and management tool enables much more effective and efficient use of every groomer. Best practices for use of operational management tools for districts and clubs within the Interactive Trail Guide (ITG). Preview of forthcoming ITG-based tools for next generation trail planning and development, and for tracking land use and ownership.
SPECIAL GUESTS AT CONVENTION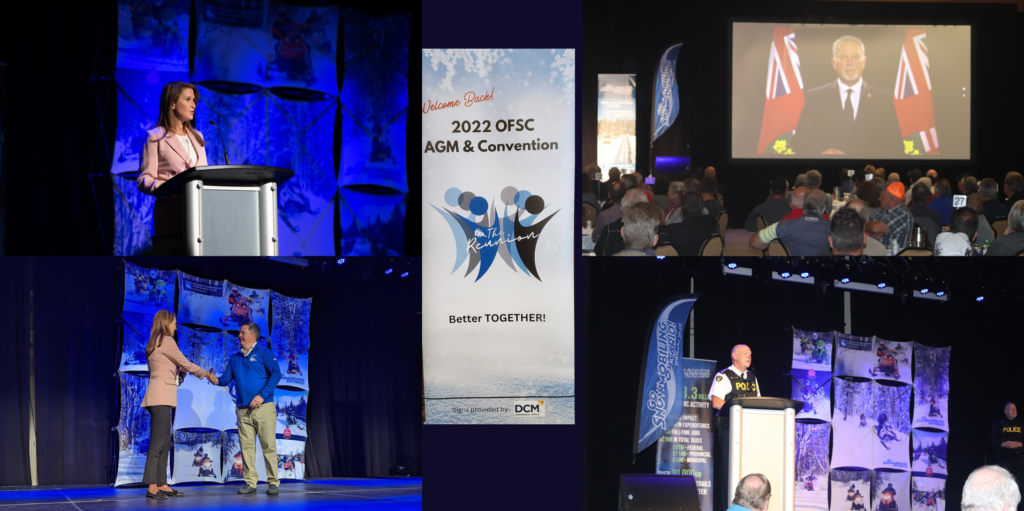 Caroline Mulroney, Minister of Transportation
The Ministry of Transportation is the provincial ministry of the Government of Ontario that is responsible for transport infrastructure and related law in Ontario. The ministry is responsible for such key snowmobiling-related items as the Motorized Snow Vehicles Act (MSVA), Ontario Snowmobile Trail Permits, and Driver Training.
Key Take Away: Announcement of a Northern Ontario Heritage Fund Corporation grant of more than $800,000 for new trail infrastructure projects this season.
Chief Superintendent Karl Thomas, Ontario Provincial Police
The OFSC welcomed our partners in trail safety, the Ontario Provincial Police, who enforce provincial laws and regulations pertaining to snow vehicles everywhere, including OFSC Prescribed Snowmobile Trails.
Key Take Away: The OPP Snow vehicle, ATV & Vessel Enforcement (SAVE) Team, as well as patrols from OPP detachments, will have a strong presence on the trails this winter. The OPP will also be continuing to produce and promote their new lighter approach snowmobile videos, which were well received by snowmobilers last year.
Jean-Francois Dupras, Motivational Speaker
Jean-Francois is a renowned wilderness guide and the youngest Canadian to have climbed Mt. Everest. Carrey uses his experiences in immense and uncontrollable environments to guide aspiring leaders to think like adventurers and to embrace change.
Key Take Away: His humour, descriptive story-telling and passion left our volunteers feeling energized and inspired to tackle new challenges and opportunities, as evidenced by their standing ovation at the end.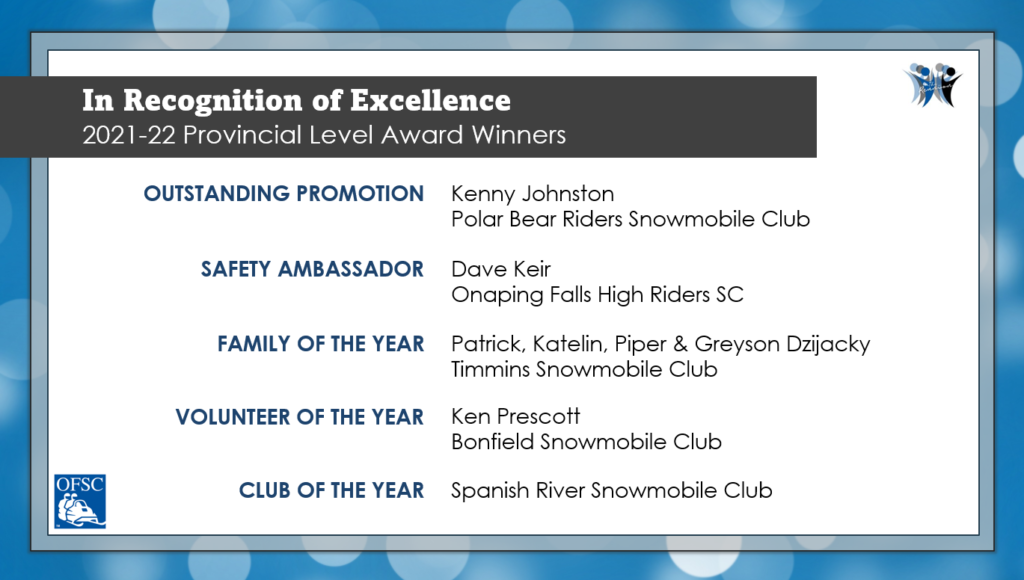 It wasn't all work at convention. The camaraderie and socializing started on Friday night, with the OFSC hosting a welcome reception for delegates, followed by an entertaining casino night. On Saturday night, the gala President's Dinner was emcee'd by avid snowmobilers, the always effervescent Jesse and Mike of Sledaddicz, followed by the annual OFSC Awards.
Sunday's Snowmobiling Ontario Open golf tournament, in support of Volunteers and Landowners, was also a great success. They say it never rains on the golf course and that proved to be true as everyone was in great spirits and having fun despite the weather conditions.
OFSC Awards
CCSO Award
Club Years of Service
Golf Tournament
Throughout convention, delegates also received swag bags and giveaways. Thanks to our sponsors, led by Yamaha Motor Canada, for stepping up to help make convention even more memorable for our volunteers!