"The OFSC" is comprised of 182 community snowmobile clubs who collectively provide 30,000 kilometres of what are officially called "OFSC Prescribed Snowmobile Trails". These member clubs are only able to deliver trails because of the hard work and dedicated efforts of their volunteers and the cooperation and generosity of local landowners who grant permission for organized trails on their property. Without volunteers and landowners, none of us would have OFSC snowmobile trails to enjoy. So how can we possibly thank them enough for what they contribute, especially after a winter as challenging as this one was? The plain fact is that we probably can't thank them enough, but we sure can try.
That's why, as this season draws to a close, the OFSC is releasing a Volunteer/Landowner Appreciation Public Service Announcement (PSA) on many radio stations across the province and on social media, starting this weekend and through to the end of the month.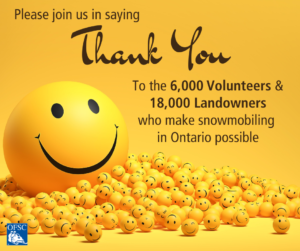 Click Image to Listen to PSA
It's a small token of our gratitude and respect for these amazing people who give us so much, and you can help – please share this PSA, along with your message of thanks, on your own social media with all your snowmobiling companions and other friends. And at every opportunity, reach out to give a personal "thank you" to any volunteer or landowner you happen to meet.
Wouldn't it be awesome if everywhere they look, our volunteers and landowners received our messages of gratitude over and over again? Together, we have the power to make this appreciation happen, so let's do it now!