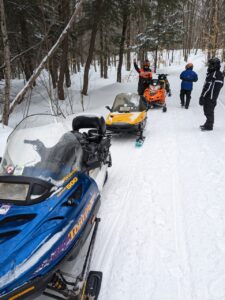 I've been a volunteer with the Heart of Ontario Snowmobile Club since the 2018 season. I attended the last AGM as our Club representative and two weeks later became Club President.
The 2023 season was different in a lot of ways. And certainly a challenging but rewarding season to take on the role, with a lot of new learning about how to run a Club. I'm proud to say it was a successful season despite the uncooperative weather.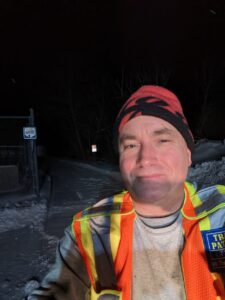 I've been a permit buyer since high school back in the early 90s and never knew everything that is involved in creating or maintaining the trails. The last few seasons there have been year-round projects to help get trails ready – brushing, cutting trees, replacing signs, checking bridges and culverts, filling holes, meeting landowners and helping work on our equipment. I've done it all, and really enjoy it. I also really enjoy because it reminds me of spending time in the woods during the Fall with my late father.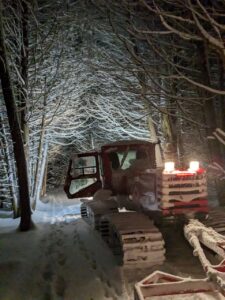 I've encouraged my wife, who doesn't snowmobile, to become involved with volunteering for our club and hope to convince her to get out of the house even for just a short ride to enjoy all the work we do. Volunteering is a great way to help maintain and ensure the future of the trails we all enjoy. It provides a sense of satisfaction of a job well done, is fun and we make lots of snowmobile friends.
I also groom for my club and, to be honest, it brings me as much satisfaction as riding does. I always do my best to provide sledders with great trails to enjoy.  I love it when riders pass by and give me a thumbs up then see their pictures and comments on social media. I managed to also find some time to  enjoy some fantastic rides in areas that I had not ridden before, with friends and my son who was riding on his own this year.
2023 turned out to be a great season and 2024 will be even better!
Story and Photos Provided By: David M.