Celebrating 18,000 Landowners Who Support Snowmobile Trails Across Ontario
(Barrie, ON: March 21, 2022) – The Ontario Federation of Snowmobile Clubs (OFSC) is celebrating a "neighbours helping neighbours" partnership tradition that began more than 50 years ago. From March 21-27, OFSC Landowner Appreciation Week 2022 recognizes our community-minded landowners across Ontario. These generous landowners come from all walks of life, including thousands of farmers, and home or cottage owners, as well as private companies, municipalities, conservation authorities and others. Each voluntarily contributes to recreational snowmobiling and the well-being of their hometowns by donating the use of a portion of their private property for an OFSC Prescribed Trail during the winter months. OFSC trails on their land provide snowmobilers with safe and legal places to ride, while connecting hundreds of rural communities on the snow.
"Our landowner partnerships foster substantial local economic and social opportunities each winter." Ryan Eickmeier, OFSC CEO. "A provincial trail network is simply not possible without the support of our generous landowners. We appreciate their contribution every day and on behalf of all the riders who enjoy our trails each year, we are pleased to celebrate it province-wide during Landowner Appreciation Week."
Many snowmobile clubs show their heartfelt gratitude to these landowners for the use of private property during the past winter with various recognition events and appreciation gifts. For Landowner Appreciation Week 2022, the OFSC is enhancing these club activities with gift cards made possible by Landowner Appreciation Program supporters, especially BRPGO!, our Platinum Sponsor. Bronze sponsors include The Canadian Association of Retired Persons (CARP), Desjardins Insurance, and Zoomer Media. The International Snowmobile Manufacturers Association (ISMA) has also contributed through its external grants program.
The OFSC is also reaching out to increase awareness of the importance of our landowners among snowmobilers and the general public. Through our partner, Skywords Media, the OFSC is broadcasting our landowner recognition PSA on more than 70 participating radio stations during Landowner Appreciation Week. A social media campaign will also promote the occasion throughout the snowmobile community.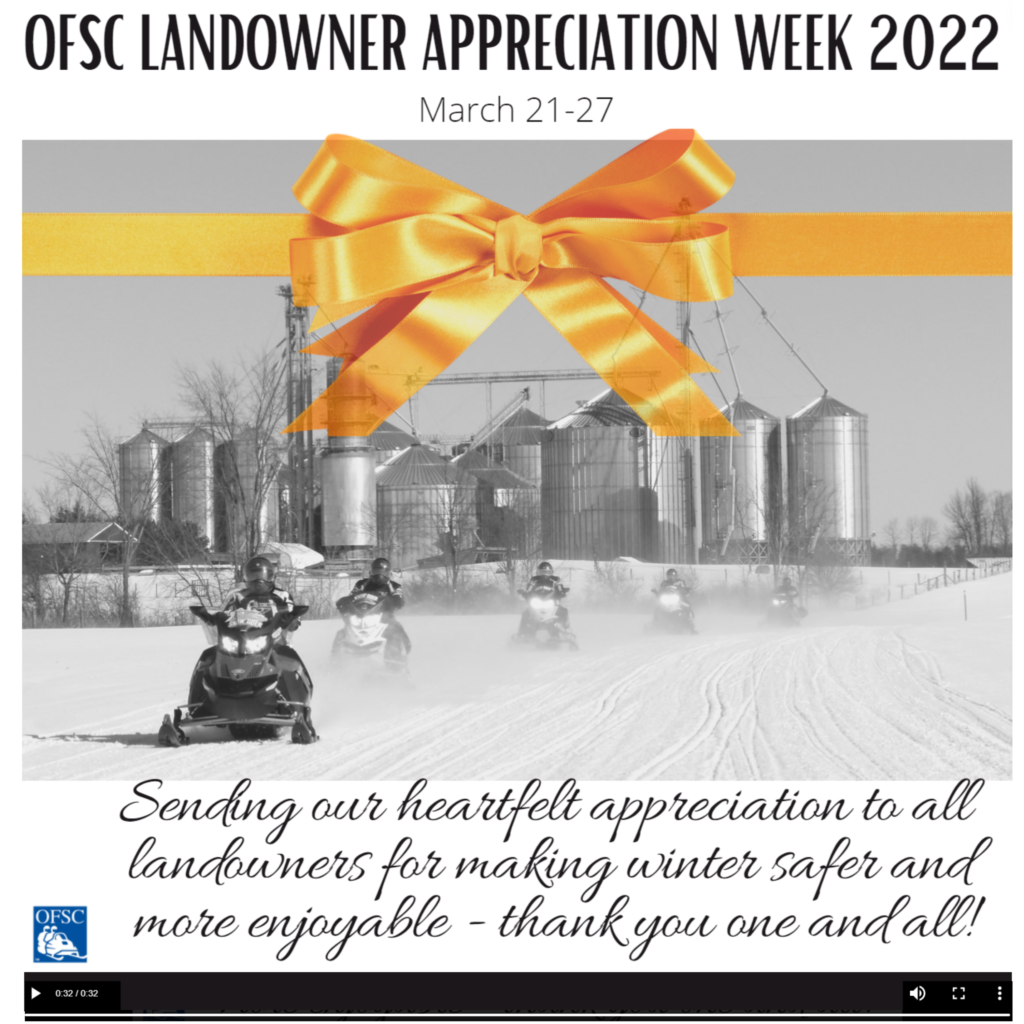 Click the image above to hear the landowner recognition PSA
That's 18,000 "Thank You's" To Landowners For Your Incredible Support!
---
The Ontario Federation of Snowmobile Clubs (OFSC) is a volunteer led, not for profit association that provides the voice for organized snowmobiling in Ontario. OFSC snowmobile trails managed by 200 community based, member clubs generate up to $3.3 billion in economic activity in the province each year.