A Behind-The-Scenes Look At The Economics of Delivering Snowmobile Trails
(Barrie, ON: February 25 , 2021) – As the Ontario Federation of Snowmobile Clubs (OFSC) enters its 54th year as the voice for the volunteer snowmobile clubs in this province, it's informative to look at a few of our "Snowmobiling By The Numbers". Hopefully, they help all of us better appreciate the big picture of organized snowmobiling in Ontario – and what a massive, complex and valuable undertaking this year-round enterprise really is. It's also a sobering look at the economic benefits that are being lost to snowbelt communities as too many trails are closed due to snowmobilers wandering off marked trails.
Most of these Snowmobiling By The Numbers are from the 2018-2019 riding season, the most recent figures available. While the numbers vary slightly from year to year, and may be down this season due to current restrictions, a primary and very unpredictable variable is consistent: What kind of season we get from Old Man Winter?
This behind-the-scenes glimpse of the inner workings of our favourite winter pastime is drawn from OFSC operational data and various studies of organized snowmobiling in Ontario, as well as figures from both the International Snowmobile Manufacturers Association (ISMA) and the Canadian Council of Snowmobile Organizations (CCSO).
Economic Impact of Snowmobiling: For starters, organized snowmobiling is a significant contributor to Ontario's winter economy. According to our most recent Economic Impact Study in 2019, you helped generate $1.6 Billion in direct, indirect or induced economic activity as a result of riding snowmobile trails that year, which also resulted in a combined annual total of $216 Million paid in federal, provincial and municipal taxes.
Meanwhile, that year's direct employment from your snowmobiling totaled an estimated 6,436 full‐time equivalent jobs in Ontario. Even considering the relatively poor snow some parts of Ontario had in 2018-19, these are impressive numbers, although in a prime snow year, our total economic impact could be as high as $3.3 billion. Here are the 2018-19 economic numbers for direct spending by snowmobilers by OFSC District: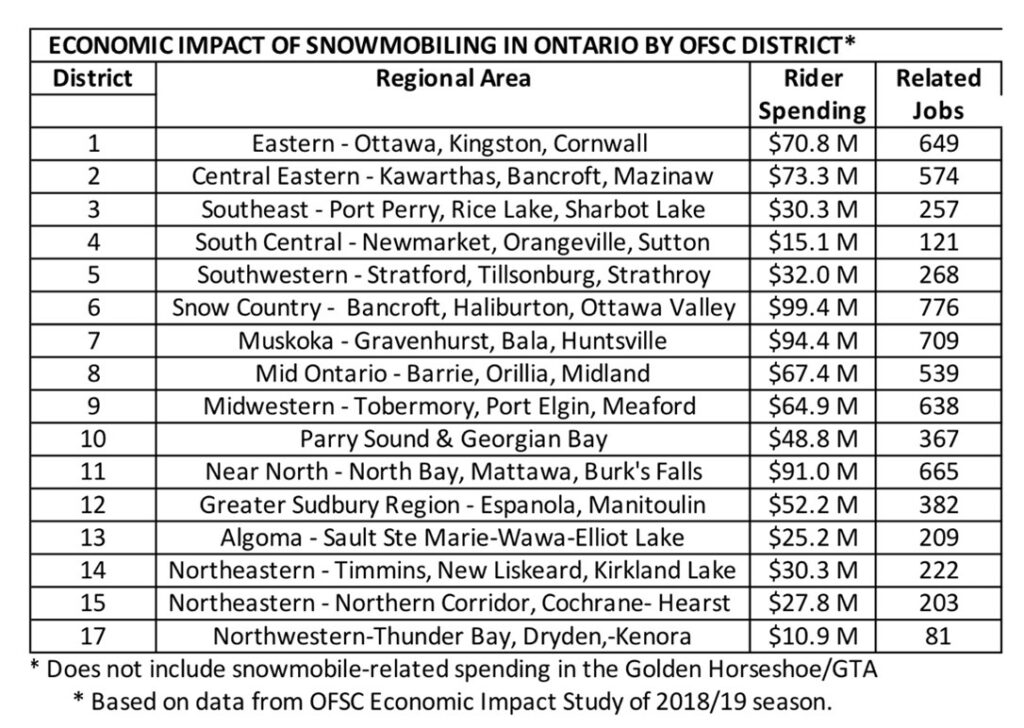 Our provincial economic impact number includes about $17.5 million in revenue from your purchases of 2019 Ontario Snowmobile Trail Permits. It also reflects your average annual spending, ranging from $2,000 to $3,000 each, on personal riding products & gear, snowmobile travel and related services, as estimated by ISMA. So in total, we snowmobilers spent almost $843 Million on these expenses in Ontario during the 2018‐2019 snowmobile season. Interestingly, the average snowmobile household spent $10,723 on a new or used sled and $565 on sled insurance – how do you compare?
Considering that much of this economic activity happens in rural and northern Ontario during the traditionally more dormant winter months, it's easy to see why snowmobile trails are so important to snowbelt regions. In fact, OFSC member clubs operate over 40% of all recreational trails in this province, and our system provides twice as many kilometres of snowmobile trails as there are kilometres of provincial highways. These are some of the reasons the OFSC is a previous recipient of "Ontario Trails of Distinction" recognition from the Government of Ontario.
Permits & Trail Operations: Altogether, you bought 2019 Trail Permits for about 105,000 sleds, which travelled an estimated 18 million kilometres on OFSC trails in 2019. Meanwhile, you also racked up almost 1.9 million page views on the OFSC Interactive Trail Guide that season while checking on trail availability.
From 2019 Snowmobile Trail Permit revenues, the OFSC invested about 77% into pre-season, trail related operations, including several million dollars on our fleet of groomers, with a market replacement cost of well over $80 Million. Both early season permit purchases and pre-season expenditures are an annual leap of faith by snowmobilers and OFSC clubs and volunteers, because these investments occur before anyone knows for certain what kind of a winter it will be.
After the snow started that year, the remaining 23% of permit revenues went to in-season grooming operations, which logged about 74,000 hours, using an estimated 1.2 million litres of fuel. In a prime snow year, these numbers would increase with more trails available in more areas for a longer season.
No figures were available centrally for in-season groomer maintenance and repairs from 2019, but given the number of grooming hours, that expense would also have been substantial.
We hope that this Snowmobiling By The Numbers overview gives you new perspective on the economics of delivering OFSC snowmobile trails every winter – and what could be lost as trails continue to close unnecessarily. Delivering trails relies on four key factors – permit revenues from snowmobilers; the dedication of about 6,000 club volunteers; the generosity of about 18,000 private landowners who we depend on for over 60% of OFSC trails; and consistent, year-round organization – locally, regionally and provincially.
The Ontario Federation of Snowmobile Clubs (OFSC) is a volunteer led, not for profit association that provides the voice for organized snowmobiling in Ontario. OFSC snowmobile trails managed by 200 community based, member clubs generate up to $3.3 billion in economic activity in the province each year.
To be added to our media release list or schedule an interview with the OFSC, please contact [email protected]
To receive OFSC newsletters, subscribe at the bottom of this page.